We verhuizen wat af met z'n allen. Nieuwe woning, kinderen op kamers, ouders naar aanleunwoning of verzorgingstehuis en ga zo maar door. Vaak doen we het zelf: busje huren, vrienden charteren, sjouwen. Maar gaat dat wel altijd goed? Hoe kan je zo'n verhuizing eigenlijk verzekeren?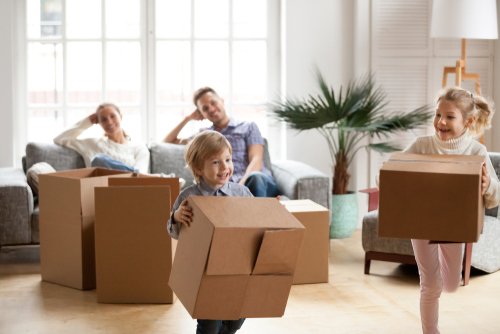 Opslag
Een verhuizer kost geld. Maar daar krijg je wat voor terug. Je spulletjes worden netjes van A naar B gebracht, eventueel opgeslagen als B nog even op zich laat wachten. De verhuizers pakken indien gewenst zelfs de dozen nog voor je in. Doe je het zelf, dan kun je ze gewoon achter je laten staan. Bestemming er op (keuken, huiskamer, slaapkamer 1 etc.) en je vindt ze terug in je nieuwe keuken, huiskamer, slaapkamer 1 etc. Gemak dient de mens.
Schade
Maar er is nog iets: de meeste verhuizers zijn verzekerd tegen schade. Waar gehakt wordt, vallen immers spaanders. Maar geen nood, het wordt opgelost. Check daarom altijd de verzekeringsvoorwaarden van je verhuizer.
Hand op de knip?
Wie liever zelf de handjes uit de mouwen steekt en op de knip houdt, huurt een busje of aanhanger. Gelukkig zijn de meeste spullen tijdens de verhuizing verzekerd door de inboedelverzekering. Hoe dat precies werkt bij jouw verzekeraar moet je zeker vragen.
Hulp
Als er iets misgaat tijdens het vervoer (ongeval) of door slecht functionerende hulpmiddelen (karretjes, ladders) is de opgelopen schade meestal verzekerd. Laat je echter een dure lamp uit je handen vallen, dan heb je pech. Tenzij je verhuishulp dat doet, dan is het vaak mogelijk om de lamp te verhalen op de aansprakelijkheidsverzekering van die hulp.
Beide adressen?
Check meteen ook of je verzekeraar op de verhuisdag(en) het oude én nieuwe adres verzekeren. Zodat ook de spullen die niet in een keer meegaan verzekerd achter blijven als je op weg bent naar je nieuwe plek. Geef daarom op tijd je nieuwe adres door.